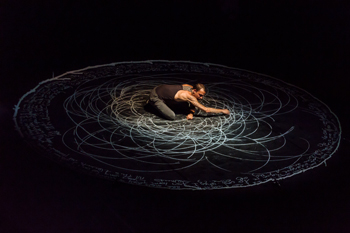 Music by
Bruno Maderna
Direction Claudia Sorace
musical dramaturgy and composition Riccardo Fazi 
performer Jonathan Schatz 
flute Karyn de Fleyt
soprano Valerie Vervoort, Hanne Roos
musical arrangements and live electronics  Juan Parra Cancino
assistant director and stage kinetics Chiara Caimmi
technical director and video designer Maria Elena
project advice Alessandro Taverna
ethic and aesthetic consultant Daniel Blanga
research consultant Brent Wetters 
lights Roberto Cafaggini 
costumes Jonne Sikkema 
stage pictures Luigi Angelucci, Filip Van Roe
organization Agnese Nepa

Production Sagra Musicale Malatestiana, RomaEuropa Festival, Muta Imago 2015
in collaboration with  Hermes Ensemble – Antwerp, Muziektheater Transparant – Antwerp, Kunstencentrum Vooruit – Gent, Orpheus Instituut – Gent, Santarcangelo International Festival of the Arts 2015, AMAT Marche, L'Arboreto Teatro Dimora di Mondaino, Rialto Sant'Ambrogio, Carrozzerie N.O.T.- Roma
with the support of Mibact – Ministero dei Beni e delle Attività Culturali – Direzione Generale Spettacolo

Hyperion is not a composition for theatre, it's not even an opera: it's a lyric that Maderna launches as a challenge to a future director so that he or she can put it onstage, "in the shape of a performance".
It's a mosaic of scattered works connected between each other only by an original inspiration tied to Holderlin's namesake book Hyperion and to the theme of the fight between the individual and society, between desire and nostalgia. A mosaic that Maderna himself kept on recomposing in different ways everytime he presented the work, both in the shape of a theatre work and in the shape of a concert, giving life to eight different versions of the same opera.
Conscious of this highly complex nature, we decided to let the music guide us through this forest of signs: we deeply listened to the recordings for months, looking for an eventual hidden beating heart, slowly digging out the fundamental question that this work raises and the myth that hides behind this question.
What is the place of the man in the world?
This, for us, is the question raised by this work.

A young man isolates himself from the outside world to look for a higher truth in the relationship with nature, with his own nature. He builds up his space, precisely drawning its limits, then he positions himself at the centre. He raises his eyes towards the sky and begins to desire. His desire materialize above himself a suspended misterious surface, a "cloud" that puts his own body into motion, pushing it to perform a series of physical exercises, apparently simple but impossible tasks that put him up everytime in front of a failure. But each failure brings forward to a further discovery while the sequence of excersises gradually turns into a tale, and in front of our own eyes a path of research is shown that speaks about utopia but has the light shape of a fable.
A flute and a soprano embody Hyperion's challenge in music, performing a sequence of pieces built in strict relationship with the narrative evolution of the show. These two are the fundamental instruments that in Maderna's music confront themselves with a huge orchestra along a continuous counterpoint, first metaphor of the relationship between the poet and the reality around him: the soloist voices and the orchestral mass, two worlds that reciprocally attack, follow, guide each other.
We don't have a real orchestra onstage, in flesh and blood. Our orchestra is a ghostly one, made by the fragments of all the past executions of the opera directed by Maderna himself while he was alive. We've been searching for these recordings, for these past traces, in archives and libraries, in Basel, Bologna, Brussels; we collected them and we gave them back a voice. We asked to the musicians to enter in a relationship with this ghosts of the past, to build up a dialogue with them; we asked to a flute to dream to be a violin, in order to play Amanda and to a voice to become a chorus to make the Schicksalslied resonate again, the chant of the destiny that closes our version of the work.
Because everything, always, passes through the dream; any gesture, any movement we make, speak about our desires. And our body is the main instrument that makes us what we are, that distinguishes us as human beings, "both when we reflect like beggars and when we dream as gods", as Holderlin would say.