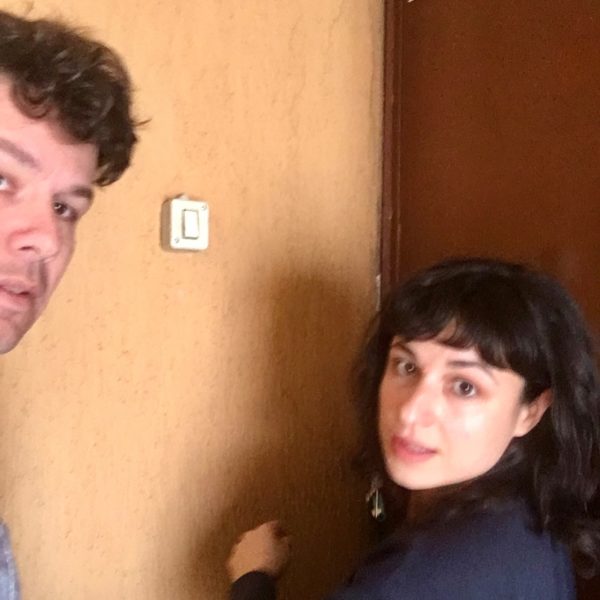 Muta Imago
is a theatre company and an artistic research project born in Rome in 2006. It is led by Claudia Sorace, director and Riccardo Fazi, playwright and sound designer. It is composed by all the people who have been, are and will be involved in the realization of the works. Muta Imago is constantly searching for forms and stories that relate the sphere of imagination with that of the present, human, political and social reality, investigating the relationship between the human being and his time.
The company's shows have been hosted and co-produced for years by the most important national and international festivals, including Romaeuropa Festival, Napoli Teatro Festival Italia, Vie Scena Contemporanea Festival, Biennale Teatro, Santarcangelo Festival Internazionale del Teatro in Piazza, Inteatro Festival, Bassano Opera Festival, Primavera dei Teatri, Biennale dei Giovani Artisti d'Europa e del Mediterraneo; and in several international festivals including Premiéres Festival (Strasbourg), Festival International des Brigittines (Brussels), Théâtre de la Ville (Paris), Festival Cyl (Salamanca), Fadjr Festival (Tehran), Bipod Festival (Beirut), Clipa Aduma Festival (Tel Aviv), Unidram Festival (Potsdam), Temps d'Images (Cluj-Napoca, Budapest), Teatro/Theater: Italienischer Theaterherbst (Berlin), Escrita Na Pasaigem (Evora), Na Strastnom (Moscow), Sirenos Festival (Vilnius), Mot Festival (Skopje), Festival Notafee (Viljandi).
With his latest productions, including Sonora Desert (2021), Combattimento (2019), Lontano da qui (2018), Canti Guerrieri (2017) Muta Imago has met the world of musical theatre, collaborating with I Teatri di Reggio Emilia, Romaeuropa Festival, la Stagione Lirica Sperimentale di Spoleto, the Sagra Musicale Malatestiana and the Muziektheater Transparant in Antwerp.
In addition to the production of the shows, Muta Imago has an intense teaching and training activity.
In 2022, Muta Imago won the Ubu Prize for best sound project with the show Ashes; in 2021, the Radio India project, co-created by the company, won the Ubu Special Prize and the Rete Critica Prize. In 2013, Muta Imago was a finalist at the Ubu Awards with the project Art You Lost?. In 2011, Claudia Sorace won the Best Director and Best Performance Award with (a+b)3 at the XXIX Fadjr Festival in Tehran. In 2009, Muta Imago won the Ubu Special Prize, the ANCT Critics' Prize and the DE.MO./Movin'UP Prize. In the same year, Claudia Sorace won the Premio Cavalierato Giovanile della Provincia di Roma and the Valeria Moriconi International Prize for "The Future of the Stage."
Since 2018, the company has been funded by the Ministry of Cultural Heritage and Activities and Tourism as an Enterprise of theatrical production of research and innovation theater.
In the three-year period 2019-2022, Muta Imago was a resident artist of the Teatro di Roma as part of the Oceano Indiano project.
In 2023  the company's new show Three Sisters will have its premiere.